The Fate of Our Public Lands
The West's public lands face several major challenges: an extremist push for local control, a changing climate, and the potential loss of support from an increasingly diverse population.
What role will these issues play in the future of our public lands? Join High Country News' writers and editors for a lively discussion on the fate of the West's wide-open spaces.

Panelists include:
Brian Calvert, HCN Managing Editor
Elizabeth Shogren, HCN D.C. Correspondent 
Tay Wiles, HCN Correspondent
Paul Larmer, HCN Publisher
David Brower Center, Goldman Theater
2150 Allston Way, Berkeley, CA

Saturday, Sept. 24th
6:30 - 7:30 p.m.
Panel discussion and Q&A
Reception following (until 9 p.m.)

If you have additional questions, feel free to contact our office directly: 970-527-4898 or email: [email protected].
Hope to see you there! If you can't attend in person, please watch a livestream of the event on our Facebook page.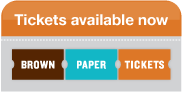 Sponsorship Opportunities Available Click Here
Thanks to our generous sponsors!
Platinum Level:
Gold Level:
Bronze Level: